While Jackson Hole is known for legendary skiing and a world class mountain resort, there are other world class activities that the whole family will enjoy. If looking for some winter activities off the slopes, check out my top 5 family-friendly activities in Jackson, Wyoming!
Dog Sledding:
Combine sledding and dogs for the perfect mix of a family winter adventure. Each trip with Jackson Hole Iditarod Sled Dog Tours is a scenic, warm ride in a modern sled. The musher-guides are always alert, willing and eager to point out wildlife such as deer, elk, moose, bighorn sheep, bald eagles, and points of interest. You can also live the mushing life by running a team yourself. For more information email bark@jhsledding.com or call 1.800.554.7388. Trips fill up early so be sure to inquire about a reservation.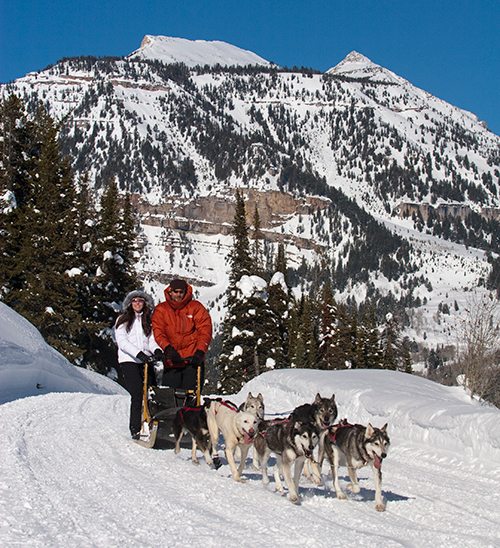 Ice Skating:
Glide along the ice, try some cross overs or even a twirl. Enjoy ice skating on Teton Village's new ice skating rink! Offering skate rentals, or you're welcome to bring your own. The whole family will relish the beautiful mountain backdrop under the Wyoming winter ski. Snow King Sports & Events Center has an indoor ice rink and is also home to many ice hockey and figure skating programs if anyone in the family wants to practice some stick and puck skills while on vacation. Contact the rink directly at 307.201.1633 or email info@cmijh.com for more information on skate times and programs.
Ride the Gondola:
Ride the gondola for awe-inspiring views of the Tetons and valley of Jackson below. Take in the big, jagged mountain backdrop as you relax and enjoy the serenity. Hop off at the top to catch a bite to eat or indulge in a frosty beverage at the full service bar. My favorite dish is the noodle bowl - perfect for a cold winter day.

Shopping:
Downtown Jackson hosts a shopping district that combines the nostalgia of the old-time western looking store fronts with boutique shops, galleries, outdoor stores and more. Pop into one of the many local restaurants for a bite to eat. Many breakfast, brunch, lunch and dinner spots host an array of flavors to relish the wild Wyoming flare.
Sleigh Rides:
Enjoy a classic sleigh ride at the Elk Refuge. Imagine taking a horse-drawn sleigh ride among an elk herd numbering in the thousands. Horse-drawn rides onto the refuge are the most popular winter activity, allowing riders a unique wildlife viewing experience and an incredible opportunity for photography. To inquire about a sleigh ride or make a reservation by phone, please call the private contractor, Double H Bar, Inc. at 307.733.0277 or 1.800.772.5386. To contact via email, please use info@bart5.com. Rates are: Adults: $25/Children ages 5-12: $15/Children 4 and under: free. Private Sleighs: $450 per sleigh, 16-18 people maximum.