With the end of summer fast approaching mountain towns, shops will start closing, the leaves will begin to fall and those fresh summer veggies will begin to disappear. The Jackson Hole Farmers Market and The Peoples Market are your one stop shops for local food and produce and there is only two weeks left!
The People's Market
Held every Wednesday from 4:00 - 7:00pm at the base of Snow King Mountain until September 23rd.
The People's Market was created to showcase local farmers and get more locally grown foods in the hands of Jackson's residents. You will find all the food you expect to see on a farm, Veggies, Cheese, Dairy, Eggs, and much more! The ultimate goal of the Peoples Market is to "increase the amount of food being grown locally, so we can all eat better and healthier while growing our economy and making a more positive impact on the planet."
The Jackson Hole Farmers Market
The Jackson Hole Farmers Market is held every Saturday from 8:00am to 12:00pm until September 26th and located in the town square.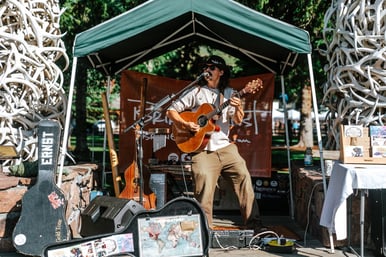 Similar to The Peoples Market but with a little more variety. Here you will still find locally grown produce and meats but also some homemade goodies like pies and cookies. Live music will be played during the market was well.
If you are in town over the next couple of weeks, do not miss out on these two events while they are still around. Both, are asking patrons to follow Covid guidelines; wear a mask, stay 6 feet apart and go cashless.
Enjoy!