Feature Photo by Sam Pope
Fun for all ages, this is a unique event that lights the town with original artwork and small town cheer. The Annual GLOW festival began last year with inspiration from the unique phenomena of the Greater Yellowstone Ecosystem such as megafauna, calderas, and hot springs. It is a way of bringing lightness and creativity to the dark winter evenings of Jackson Hole. After being a hit in Teton Village last year, The Jackson Hole Public Arts has decided to present two spectacles this year; the additional being held in the Town of Jackson itself!
The Event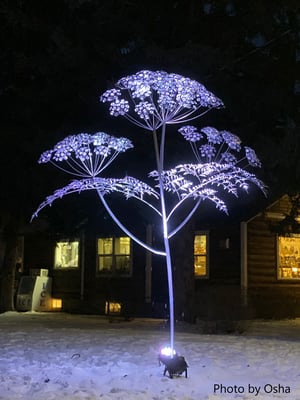 For it's second and final evening of the year, GLOW will be held January 17th from 5-7pm in the Town of Jackson. Pick up a glowing lantern around 5pm from the Pavilion Enclosure at the Center for the Arts. Then, join the parade from here to the "Save The Block" Greenspace departing at 5:30pm. The parade will continue to each of these unique pieces of lighted artwork with free food and drinks available on location. Accompany that with music by the Jackson Hole Chorale and Dj Mr. Whipple and it is a night sure to entertain.
The Artwork
In collaboration with several non profits and local businesses, three creative artists have brought their own interpretation of GLOW to their incredible pieces of art. The first, presented at the "Save the Block" greenspace, is "Bear Root" (right) by Ben Roth, in partnership with the Jackson Hole Land Trust. Then, the "Grand Antler" (top photo) by Bland Hoke hangs above Town Square (sponsored by the Jackson Hole Chamber of Commerce and First Interstate Bank). And finally, the "Phantom Seasssons" (below) by lighting designers Bradley Smith, Doug Vogel, and Noah Waldron illuminates the Town Enclosure on the Center Lawn (sponsored by Center for the Arts).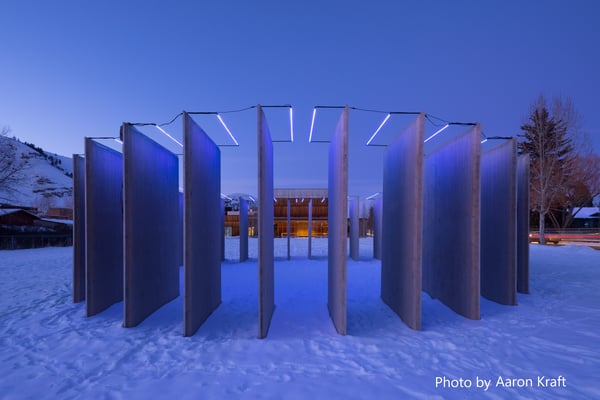 More at https://www.jacksonholechamber.com/events-calendar/glow-nights-celebration/