With nearly 40 inches of fresh powder, skiers and riders were beaming with excitement this week over fresh and fluffy February powder. Every morning seemed to be a powder day. And the next day was better than the day before. It is the kind of storm system where February continues to rack up more and more snow.
Face shots (where the snow is so deep it sprays snow back onto your face as you ski down) became the normal on the slopes this week. If you were not getting face shots, than you were certainly floating atop some amazing groomed trails.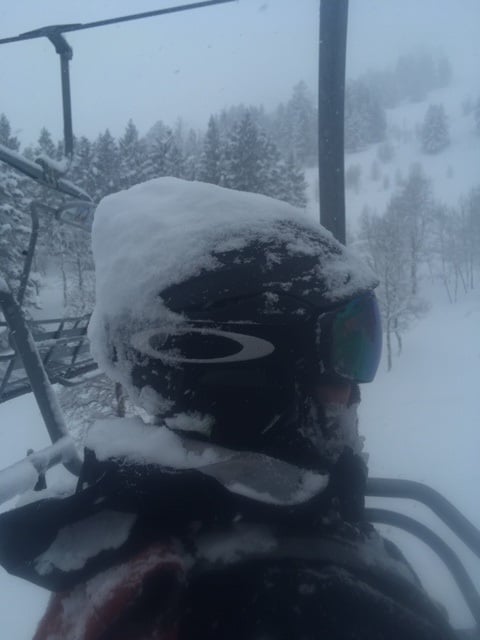 Photo: Face shots for this skier as he heads back up to the Hoback area.
With this much snow and the powder days racking up over the week, it is the type of ski day that will accommodate almost any skier or rider. While the trees were fresh and deep, the trails were groomed with a few inches of fresh snow sitting on top. Depending on when the trails were groomed and when the snow fell, there may be options to find more or less powder on certain slopes. This allows for the slopes to be in great condition for any skier or rider, but also allows for the trees and certain open areas on the mountain to accumulate more powder.
For the more experienced skiers and riders, the Hoback's provided some untouched, deep and fluffy powder. I found lines in the morning that were completely untracked. I stopped to take a quick picture and realized there was not another person around. The mountain felt somewhat empty, but the energy of the people around was full of joy and fun.
Moran face was also really fun this morning as the sides of the trail were lined with untouched and surprisingly deep powder. I was able to find more face shots in the trees off of Moran face and had fun skiing top to bottom. This made for a big smile spread across my chilly face. I also recommend a neck gaiter and layers as the temperatures are a bit colder right now. This way you are prepared for the cold, but can easily layer down if you work up a sweat.
As colder temperatures continue, more snow is on the way for the next 7 days making for a February full of fresh snow!